It seems that the more ways to deliver in the online store, the better for sales. Each client will be able to choose a suitable option for the price and terms. But organizing the shipment in ten different ways and controlling the delivery will have the seller, that is, you.
It is more convenient to choose for your store 2-3 delivery methods, guided by the tips:
One of the ways should be as cheap as possible (usually this is Russian Post). Payment of delivery always seems to the buyer additional unnecessary costs (even if the buyer knew about them in advance). Therefore, for those who are very saving, it is worth offering an inexpensive option. And to warn about the timing - you may have to wait a week.
For buyers who want to receive an order urgently, offer courier delivery.
Be sure to add pickup. Some people prefer to pick up the order on their own at a convenient time for themselves, rather than adjust to the work of the courier. Pickup does not necessarily have to be organized from your offline store, there are other options, which we will discuss in this article.
If your store (or warehouse) is located in Moscow, find a way to deliver parcels around the city on the same day or the next - buyers from the capital expect such a service, this is not just a competitive advantage, but almost a prerequisite. The same is better to organize for St. Petersburg.
Important: make on the website a page with a description of all delivery methods, so that the client can find out the conditions in advance, and not be surprised at the sudden payments during the checkout process.
To calculate the cost of delivery, you can use the tariffs of postal and courier services, calculate the cost of delivery yourself, assign a fixed amount or choose free shipping. The article will tell about the features of different delivery methods, and show how to configure them in Ecwid Store .
Choosing a delivery method
It all depends on the product you are selling. If these are bulky fragile things, such as flower pots, then it may be cheaper (and safer) to send them by mail and not by mail. Explore different options, taking into account the approximate weight and dimensions of your parcels.
Post of Russia
The usual option for both buyers and sellers. Delivery times vary by region and may differ each time when shipped to the same place. For example, a preliminary calculation on the site pochta.ru promises to be delivered in 1-2 days from Moscow to Ulyanovsk, but usually the parcel takes 3-5 days: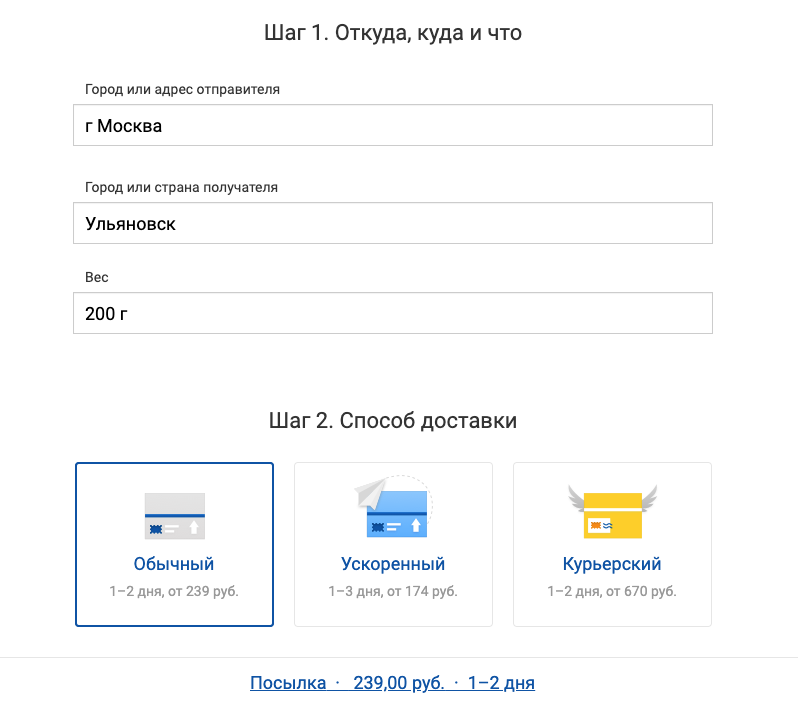 On the website of the Russian Post pochta.ru, you can calculate the cost of departure and approximate delivery times
Russian Post can send goods by cash on delivery - the buyer pays for the parcel upon receipt. The client is comfortable, but the seller does not: you have to wait for payment for a long time, plus sometimes customers do not pick up the order and all the costs of shipping and return are borne by the seller.
The only plus of cash on delivery is that the store doesn't need to take care of issuing a check and sending sales data to the OFD at 54-ФЗ . If this is critical for you, then sending by Post of Russia is a suitable option.
Tips:
Use Russian Post service for business : it's easier to prepare documents for dispatch, parcels in the department are received faster, and there are special rates for online stores.
Choose a package that matches the size of the standard Mail package in order not to overpay.
Will receive track number parcels and inform his client (or better give direct tracking link ). So he will be able to find out about the location of his order.
And read detailed instructions on sending parcels by Russian Post .
Express delivery
The main advantage of this option is the largest percentage of purchase orders compared to delivery by mail or to points of issue. If you decide to send parcels by courier, there are two ways:
Connect courier service
It's easiest for an online store to start working with the most popular services, such as Boxberry , CDEC , EMS , DPD . All the processes and schemes of work they have more or less debugged.

On the other hand, large services do not fight for customers as much as small and beginners. Their service and speed of delivery can be better if the service, for example, works only in Moscow. Alternatively, one courier can be used for delivery in Russia, and another in Moscow.

To help courier rating .

Hire your own couriers
If you have a lot of orders in the city where you are located, it makes sense to arrange the delivery yourself. So you will be 100% confident in the quality of the work of couriers (its employees are easier to control than the contractor).
Read as an online store to organize your own courier delivery and even make money on it.
Pickup
Do not wait for the courier to call, do not rebuild your entire schedule in anticipation of his arrival, but simply pick up the order quickly and at a convenient time for yourself - the reasons why people choose self-pickup.
Give buyers the opportunity to pick up an order by yourself:
Open your own point of issue orders
For example, rent a small area in a shopping or office center. Take the cheapest options. It is important not to be visible, but just to be present.
Use post offices or delivery points
Courier services can deliver to their own points of issue and postal machines (postamats). The largest network of pochtomatov at Pickpoint and BoxBerry . It is convenient for the client to pick up the order, as the post offices are placed in large shopping centers and other places with good access. They work seven days a week, often around the clock.
Have told more about these and other ways to organize self-delivery .
AT online store on Ecwid You can not just add self-pickup as a delivery option, but also give the customer the opportunity select the time and date of receipt of the order . Use =)
Shipping cost calculation
How much to charge for delivery, so as not to scare off customers and not lose money? We offer several strategies:
Use shipping rates
This option works fine if your site has integration with the delivery service and the cost is calculated automatically when the buyer places an order. Or you can adjust the cost of delivery in the store on their own based on the tariffs of the suppliers.
In the Ecwid store, you can connect the automatic calculation of the shipping cost using:
You can also set your own tariffs for delivery to different regions in the Ecwid Store using creating geographic zones .
Make free shipping
A nice option for customers. They take only one decision: whether to buy goods at the stated price. And you need to set such prices so as not to go broke on delivery (or use one of the clever ways ).
The strategy is perfect if you sell the original product and customers can not compare your prices with anyone. Or make free shipping your competitive advantage and lure customers.
Instruction, how to set up free shipping in a store on Ecwid.
Set a flat rate
In this case, the delivery amount is the same for all. And for a small order with shipment to the other end of the country, and for a large order from a buyer from a neighboring city.
You do not have to spend time on the calculation of several tariffs. It may be unprofitable for you to deliver parcels to remote regions if, if you specify the price, you will be guided, for example, to the central part of Russia. If you specify the maximum cost, then it confuses buyers.
Conclusion: the fixed cost of delivery can be established if you sell the same type of goods (for example, only sweatshirts). Or you work only for the nearest regions. For example, such a delivery calculation strategy is used by the store maxgoodz.ru :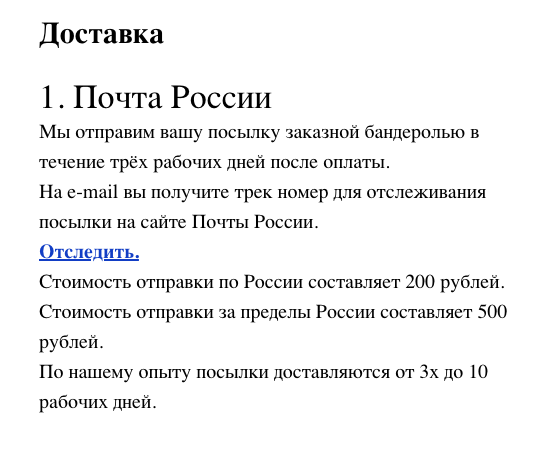 You can set the average cost of delivery for all regions at once.
Instruction, how to set a fixed shipping cost in a store on Ecwid.
***
How do you deliver orders to customers of your online store? Share your experience. And if in the article we did not disclose any question, ask in the comments. All find out and add.
about the author
Anna Koneva is a content marketer and editor at Ekvide. Understands online advertising and statistics. Loves big cities, pasta and Woody Allen movies.
How do you deliver orders to customers of your online store?